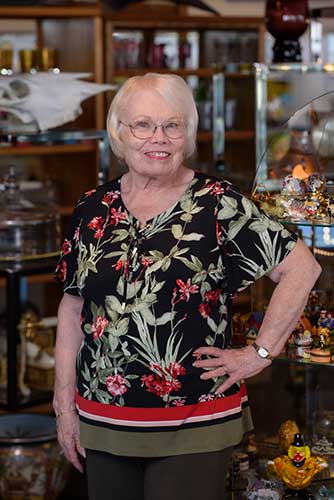 I moved to Las Vegas in 1977 and worked at several casinos working as a manager in the soft and hard count for 30 years.
On my days off, I was working in antique stores and have been in the antique business since the early '80s. I started at the Sampler Shop, then I went to the Red Rooster.
When the Red Rooster became Charleston Antique Mall and moved to their new location on Decatur, I became one of their managers.
For the last 6 years, I was a manager until recently, when I got involved with the new Las Vegas Antique Center.
After spending over 40 (collective) years in the antique industry as both seller and store manager, we decided to collaborate our knowledge and experience to open our own store.
In our store, you will not find large pieces (furniture or otherwise) but rather 1000's of items that you can take home with you in your car or suitcase. We will also pack and ship items upon request.
Located in the same center as the Charleston Antique Mall, Arizona Charlies, and Poor Richard's Playhouse, our store is now a must-visit spot for all things antiques in Las Vegas.
Come by, spend some time and we guarantee you'll make it a regular stop every time you come to Vegas.